THE PRIMARY ELECTION IS RIGHT AROUND THE CORNER
ON
TUESDAY, JULY 19TH, 2022
CHECK YOUR VOTER REGISTRATION STATUS OR LOCATE YOUR PRECINCT POLLING LOCATION BY CLICKING HERE.
DEADLINE TO REGISTER TO VOTE OR CHANGE YOUR REGISTRATION IS JUNE 28TH, 2022. REGISTER BY CLICKING HERE.
REQUEST A MAIL-IN BALLOT BY JULY 12TH, 2022.  REQUEST A BALLOT BY CLICKING HERE.
EARLIER VOTING TAKES PLACE BETWEEN THURSDAY, JULY 7TH, 2022 AND THURSDAY, JULY 14TH, 2022.
LEARN MORE ABOUT EARLY VOTING BY CLICKING HERE.
LOCATE AN EARLY VOTING POLLING LOCATION BY CLICKING HERE.  YOU CAN VOTE AT ANY EARLY VOTING SITE IN THE COUNTY YOUR ARE REGISTERED.  MONTGOMERY COUNTY HAS 14 EARLY VOTING LOCATIONS.
Dear Friends,
It is my honor and privilege to represent you, your family, your friends, and your neighbors in the House of Delegates in Annapolis for District 39.
District 39 includes Montgomery Village, Washington Grove, and parts of Gaithersburg, Forest Oak, Flower Hill, Germantown, and Clarksburg.
I currently serve as the Parliamentarian of the House of Delegates, and the Chairman of the Health and Social Services Subcommittee on Appropriations.
Please do not hesitate to contact me for any reason.  Whether you have a concern or complaint about an issue facing your community, a roadblock in dealing with local or state government, an idea for possible legislation, or if you would like me to come to an event or meeting to discuss issues facing the district or State.  I stand ready to work with you for a better District 39, Montgomery County, and Maryland.
Please Support the Democratic Candidates in District 39:
For Governor & Lt. Governor:
For Comptroller:
For Attorney General:
For U.S. Senator:
For U.S. Congress Dist. 6:
For U.S. Congress Dist. 8:
For State Senate:
For State Delegate:
For County Executive:
For County Council At-Large:
For County Council Dist. 2:
For County Council Dist. 3:
For County Council Dist. 7:
For State's Attorney:
For Clerk of the Court:
For Register of Wills:
For Sheriff:
For Circuit Court Judges:
Board of Education At-Large:
Board of Education Dist. 1:
Board of Education Dist. 3:
Facebook Posts
Delegate Kirill Reznik
2 months ago
Reznik Report from District 39 – Are you familiar with the ballot questions? October 19, 2022 There are 20 days until the General Election on November 8th I wanted to send out an email letting you know about the ballot questions you will see when you go to vote. There are five (5) Statewide ballot...
Twitter Feed
The Montgomery County Delegation will hold the first of it's two local & bi-county bill hearings this Thursday, Dec 8th.

For information about the legislation, how to testify or watch the hearings, please go to the Delegation website at https://t.co/8xFcka7sH9. https://t.co/7vpABwr7Dx
Congratulations to the Damascus Hornet on their championship.

Damascus HS wins the 3A state title.

Quince Orchard HS wins the 4A State title.

MoCo high school football is cleaning up this year!! https://t.co/25y3Um7Yjr
The members of the Montgomery County Delegation have pushed back against Metro's proposed reinstatement of the Red Line turnbacks at Grosvenor and Silver Spring. The proposed reduction in service would disproportionately impact our county and its residents. https://t.co/cSCWN6oaW4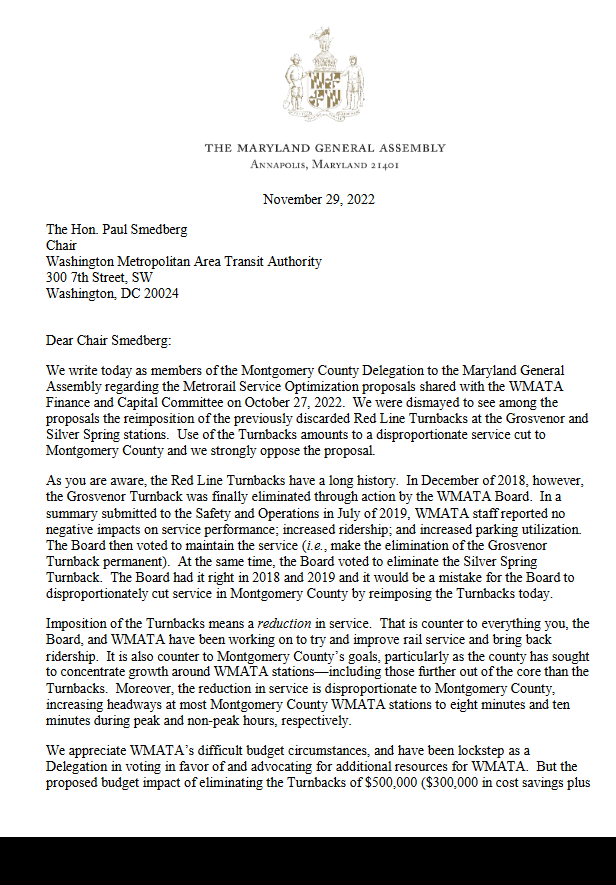 Happy Friday! 263k jobs were added in November and over 10.5 million jobs have been created under President Biden.
I just want to make a few things clear:

The Holocaust happened.

Hitler was a demonic figure.

And instead of giving it a platform, our political leaders should be calling out and rejecting antisemitism wherever it hides.

Silence is complicity.